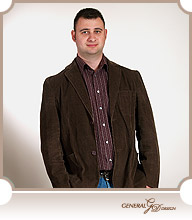 The General Design Co. Ltd. was founded on September 1st, 2006, and its main activity is carpentry and wooden-cabinet making, up to complete finishing. The predecessor of the company is the Hungaro Design Inc., founded in 2000, and it has been still operating with a consolidated management We have a wide variety of references, and after carefully considering and fulfilling the needs ofour customers, they approve of our expertise, quality and range of services we offer by being repeat customers. Whatever is related to wood and can made out of it - we can do it, and the limit is only your fantasy. We can help you in the designing as well; we can draw what you have dreamed of.
We have our own qualified starff as well as our own workshop; therefore our prices are reduced and we offer high quality at an affordable price. We offer fast and reliable job performance.

Hotel Benczur has been furnished (70 hotel rooms in Budapest);
Conference Hall in Szekesfehervar (Hungary) general carpentry work in the main organizing hall;
Pieces of office furniture of Logistic HQ of the Hungarian company CBA;
Furniture pieces of Pal Szemere Elementary School in Pecel (Hungary);
each furniture piece of retail shop CBA ""Budavár;"
all show-kitchen furniture pieces of "Benke Laci bácsi" cooking show;
furnitures of public area at CIB Bank affiliate in ... ;
countless private customers' personal home furniture, e.g., kitchen and bed furniture sets in unique individualized styles;
doors and other wooden carpentry and cabinet-work in a variety of ministries;
and there is a long list of other examples.
I wish for you to meet us and become familiar with our type of work and dress up your home, office, workplace, or store with our furniture and find joy in doing that. (We look forward to meeting you and your wooden furniture needs. - I would add this at the end. )
Thanks and best regards:
David Szekeres
Managing Director